Transforming a garden shed
Reorganising a space can sometimes be a major challenge. When my client contacted me to help her organise her garden shed, I was impressed by her prior commitment to sorting and decluttering the space. However, she needed solutions to further optimise the space and allow every item to have its dedicated place. With the help of my team, we met this challenge by designing and implementing a bespoke solution to maximise the use of every available square centimetre.
Creating a made-to-measure shelf
One of the main ideas for optimising the space in the garden shed was to create a bespoke wooden shelf. We wanted a functional and aesthetic solution that would meet my client's specific needs. So we began the process of designing the shelf, starting by choosing the right materials that would ensure its durability and strength.
Once the plans had been finalised, we worked hard to make the shelf to the agreed specification. The structure of the shelf was securely fixed to the beams of the shed, ensuring its long-term stability. It was also essential to take precautions to avoid damaging the more fragile parts of the existing shed structure.
As well as the shelf, we also considered solutions for the bulkier items such as the ladder, long rake and garden hoses. To free up floor space and make it easier to access these items, we installed sturdy hooks on the wall at the front of the house. This arrangement allows my customer to find these items quickly and easily, while avoiding the hassle of having to move them each time.
Before and after pictures
I'll let you browse through the before and after images of our home organising work in this garden shed. The photographs show the transformation of the space, highlighting the effectiveness of the solutions we put in place. Before our intervention, the garden shed was cluttered and disorganised, with objects laid out in a chaotic manner. After our work, the space became clear, organised and functional, with a dedicated place for each object.
To scroll through the 'before/after' images, move the arrows on the images from one side to the other. On the left, see the before and after images of the garden shed.
Need help with tidying up?
If you're ready to transform your home into a harmonious, functional and perfectly organised space, I'm here to help!
As a professional organiser, I'm passionate about optimising space and creating clever storage systems. I can guide you through every stage of the transformation, from initial decluttering to finding storage solutions that are tailored to your spaces.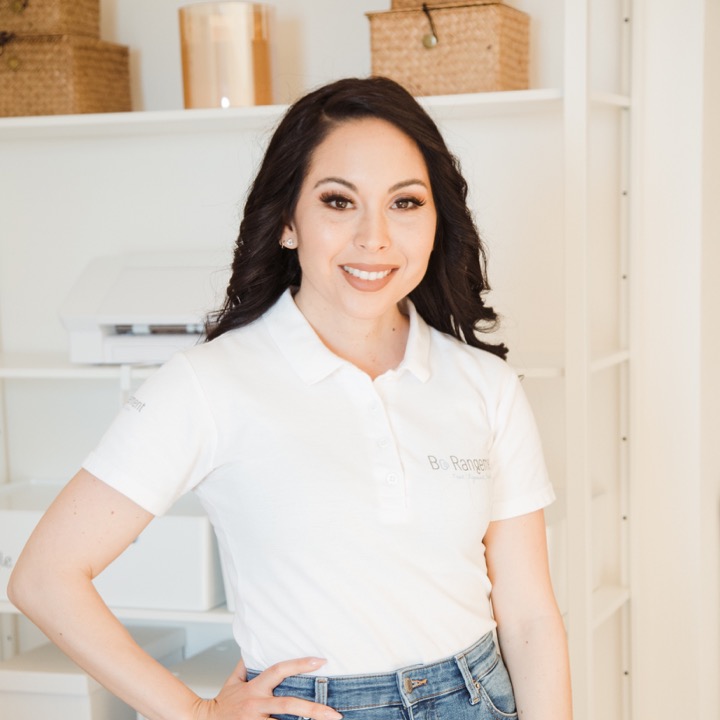 Discover the systems used to organise the garden shed and have your say on the result!
Click on the captions for easy access to the product pages. Before venturing into the complete organisation of your room, it's crucial to carefully follow the sorting and decluttering steps.