Have you ever opened the door to your cellar to be greeted by a chaotic heap of objects, boxes and mementos accumulated over the years? If so, you're not alone. Cluttered cellars are a common challenge for many families, but the good news is that we're here to help you turn this nightmare into an organised and functional space.
At Bo Rangement, we understand that your cellar can be one of the most neglected areas of your home. That's why we offer specialist storage support services for cellars of all sizes. In this article, we'll explain how our home organising service can revolutionise the look and functionality of your cluttered cellar.
The first stage: assessment
The key to any home organising project is a thorough assessment of your space. When you call on our services, a space organisation expert will come to your home to discuss your needs and goals. We'll take the time to understand what you want to achieve with your cellar and assess the scope of the work involved.
After the initial assessment, we'll move on to the crucial stage of sorting and decluttering. Our team will work closely with you to decide which items to keep, donate, sell or throw away. We'll guide you through the process to make sure every item has a clear place.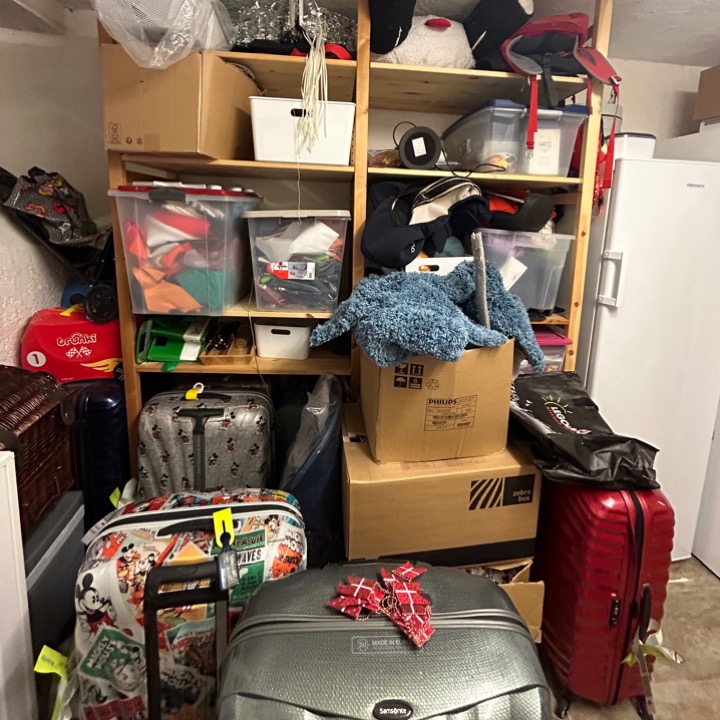 Once we've established which items to keep, we'll create a bespoke organisational system for your cellar. This may include shelving, cupboards, storage boxes, hooks, and other space-maximising solutions. We'll make sure that everything is easily accessible and that your cellar stays organised for the long term.
Make the most of your reorganised cellar space
After following our home organising process, you'll be amazed at the transformation of your cluttered cellar. You'll have a clean, organised and functional space that you can use for storage, a workshop, or even to create an additional multi-purpose room.
Don't wait any longer to take back control of your space.
To scroll through the "before/after" images, move the arrows on the images from one side to the other. On the left, see the images before our intervention, and on the right, see the images after the cellar has been cleared and organised.
Organising your cellar effectively requires an understanding of space optimisation, choosing the right storage tools, creating practical filing systems, and much more. Home organisers are experienced professionals in creating tidy, functional spaces. Their expertise can help you avoid making costly organisational mistakes.
As professional organisers, we don't just create a clean space, we also establish sustainable systems to maintain order over the long term. You'll enjoy an organised, functional cellar for years to come.
All in all, calling on our home organising service is a wise decision to transform your rooms into useful and soothing spaces. It's the perfect investment for your comfort and peace of mind, allowing you to enjoy your home to the full.
Here I'm sharing with you all the references and links to storage items and systems installed to organise the cellar. Click on the captions to go directly to the product pages.